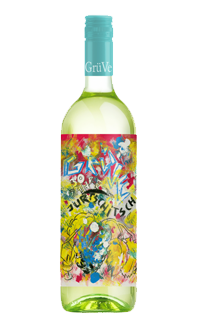 Grape variety: 100% Grüner Veltliner
Soil: Langenlois loess and bedrock soils
ABV: 11,5%
Ac: 6,0‰
Rs: 1,7 g/l
Ageing potential: 2018

» Etikett/Label [JPG]
» Flasche/Bottle [JPG]
» Factsheet [PDF]
GrüVe 2016
30 years of GrüVe (think 'groovy') – 30 years of diversity
To this day, wine lovers and collecters are enthusiastic about our GrüVe as a Veltliner original. GrüVe was and remains a successful symbiosis of picturesque art and vinophilic magic. Each vintage is a unique ambassador of flavor. Jurtschitsch & Attersee have made this possible since 1987!
The 2016 vintage
"A primordial Veltliner!" The Kamptal winemaker Alwin Jurtschitsch radiates over the new vintage of his GrüVe, and goes on to say: "We harvested gorgeous, crisp ripe grapes - it went quite well! The 2016 GrüVe is, like its predecessors, the first quality wine of the new year." Every GrüVe vintage is as unique as the weather, and every GrüVe label is as well. Our GrüVe reflects the vintage in the most flavorful way: fully developed, wonderfully fresh with lots of fruit - and a pleasant 11.5% alcohol.
» Winzerglück « (the winemaker's bliss)
The 30th vintage has deliberately been named "Winzerglück". Faithful customers, hard-working employees, reliable partners and a great artist like Christian Ludwig Attersee are responsible for many moments of bliss – and we want to thank them wholeheartedly!
The making of the wine
The grapes were selectively picked by hand at the end of September, carefully destemmed, and pressed at very low pressure. Without the use of pumps, the clarified must flowed from the press house into the natural cellar below and was slowly fermented in cooled stainless steel tanks at approx. 18 ° C. The delicate fragrances and flavors were thereby retained. The freshness and fruit of the classic Veltliner are emphasized by
maturation in a steel tank.
Drinking & food pairing recommendations
GrüVe ist a brilliant aperitive, a delicious refreshment on hot days, or a pick-me-up after a stressful working day, as well as a hearty accompaniment to fresh, healthy dishes!