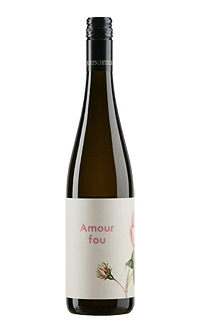 Grape variety: 100% Grüner Veltliner
(organic)
Soil: kristalliner
Gesteinsboden (Gföhler Gneis)
mit dünner Humusauflage
ABV: 12.0%
Ac: 5.3‰
RS: 1.0 g/l
Ageing potential: 2025

Amour Fou
Grüner Veltliner 2015

In the search for a timeless Veltliner with great ageing potential that is not characterized by volatile primary fruit, since 2009 we have been working with Grüner Veltliner using a maceration similar to that used in the production of our Pinot Noir. The berries (from the Loiserberg) were gently destemmed, fermented in a 500 liter stainless steel tank, and left on the skins for 10 weeks. Only the free flowing, light, and initially very reductive finished wine (no pressing) was subsequently put into into a small neutral oak barrel for 6 months.

Week after week, the fruit - under the influence of oxygen from the wood – became ever more precise and finer. The aim of the maceration was to get the most possible structure and excitement on the palate, even in warmer years when the acidity in Grüner Veltliner often disappears quickly.

Fermentation with the berries.
The result is a timeless Veltliner with great ageing potential. An idea, a thought in the search for diversity of flavors in wine..