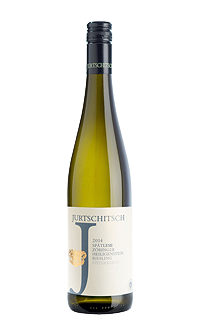 Grape variety: 100% Riesling
Site: Zöbinger Heiligenstein,
Erste Lage (organic)
Soil: weathered desert sandstone with volcanic conglomerates
ABV: 10.5%
Ac: 8.2‰
RS: 75.9g/l
Reifepotenzial: 2030

Riesling
Zöbinger Heiligenstein 2014
Spätlese
This Spätlese captivates with its splendid straw-yellow color. A fragrant experience of full ripeness, with lush stone fruit notes and a great abundance of flavors - a classic mix of apricots and vineyard peaches. This Spätlese is distinguished by its sleek structure and delicate acidity. it presents itself on the palate as succulent and fresh, and creates the desire for a second glass.
Die Lage Zöbinger Heiligenstein
The Zöbinger Heiligenstein is one of the very first south-facing Riesling vineyards with a very rare geological formation: it's all about the reddish, weathered desert sandstone from the Permian period, and conglomerates of volcanic components. Fossil findings from the Mesozoic prove that the Heiligenstein must have projected at that time from the sea as an island, with the surf washing seashells and marine animals onto its slopes.
The vineyards of Heiligenstein lie inside an enclosed nature preserve. Between the vineyards, strictly protected natural dry grasslands with thriving flora and fauna can be found, which are otherwise only found in far southern Mediterranean areas.
Making of the wine
The grapes were harvested by hand in late October 2014, and gently pressed as whole clusters. To preserve the fine aromas and flavors, the wine was fermented in stainless steel tanks at 20°C, temperature-controlled. The wine was bottled in November 2015.
Speisenempfehlung
The subtle sweetness especially underscores culinary delights such as chicken liver or foie gras!