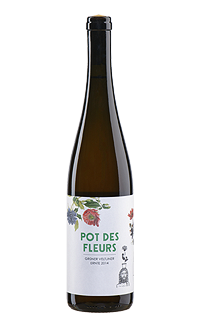 Grape variety: 100% Grüner Veltliner
(organic)
Vineyards: mountain terraces near Langenlois
Soil: primary rock, Gföhler Gneiss
ABV: 11.5%
Ac: 5.3‰,
RS: 1,1 g/l
Ageing potetial: 2024

Pot des Fleurs
Grüner Veltliner 2014
This wine was fermented and matured in a clay amphora (kvevri) according to a historical method. Unfined and unfiltered, bottled in spring 2016. The grapes were gently rubbed, so that only individual berries without stems were placed in the 500-liter amphora. The amphora was filled 2/3 with grapes, and then the rest of the way with must from the same single vineyard. After 6 months, the lid was opened and the finished clear wine removed. The grapes that had in large part settled to the bottom of the amphora were scooped out and pressed. This press wine, which was dominated by tannins and an orange color, was however not added to the clear, bright wine of the first batch.

The yield was correspondingly low, but the result we found the better for it: floral herbal spice with earthy flavors come bit by bit to the fore, and continue on the palate. Unfined and unfiltered, the wine was bottled with a light sulfurization.

Note: Naturally cloudy.
Turn gently before opening, do not store above 20°C.