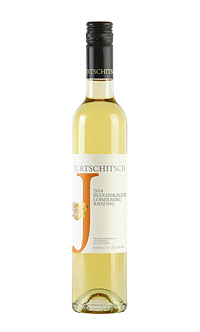 Rebsorte: Riesling
Site: Ried Heiligenstein
Hand picked grapes from organic farming


Riesling Heiligenstein 2018
Beerenauslese
Nature gives us whether sweet wine is produced in special years. Only when the conditions are perfect, there are these rare specialties at the winery.
Beerenauslese
Substantial, invigorating, and concentrated, the forward acidity grabs you, revealing a luscious body of sweet deep fruit structures. The aromas are expansive and, apart from the fruit, are underlaid with spice and honey, with a long and lingering finish.

The Making of the Wine
We harvested our noble rot grapes in several passages in meticulous manual work. In the cellar, the grapes were selected a second time. After a day on the mash, the grapes were gently pressed. Due to the water loss on the vine only a small amount of highly concentrated juice was released when pressed. The fermentation started spontaneously. The Beerenauslese was aged in wooden barrels.