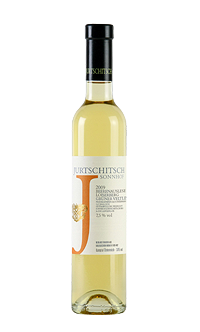 Rebsorte: Riesling
Site: Ried Loiserberg
Hand picked grapes from organic farming


Riesling Loiserberg 2018
Trockenbeerenauslese
Nature gives us whether sweet wine is produced in special years. Only when the conditions are perfect, there are these rare specialties at the winery.
Trockenbeerenauslese
The highest order amongst sweet wines. An intense sweetness on the palate is accompanied by a bold, but straightforward and highly structured acidy. Our TBA is deep and powerful, forceful and dynamic. A veritable potpourri of complementary aromas are embedded in a concentrated and juicy mouth-feel - pure nectar of the gods!

The Making of the Wine
We harvested our noble rot grapes in several passages in meticulous manual work. In the cellar, the grapes were selected a second time and only the raisins were used for TBA. After a day on the mash, the grapes were gently pressed, with little but highly concentrated juice flowing out due to the evaporation that took place on the vine. The fermentation of the berries started spontaneously and lasted about 6 months due to the high sugar concentration.