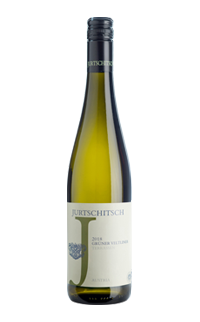 Grape variety: 100 % Grüner Veltliner
Origin: Lower Austria
Soli: Primary rock and loess
ABV: 12.5 % vol
Ac: 6.4 ‰
RS: 1.1 g/l
Ageing potential: 2022

Grüner Veltliner
Terrassen 2019
Yellow with green undertones, fresh apple aroma with delicate citrus notes in the nose, a pleasant peppery spice with stimulating fruit on the tongue. A perfect drinking experience for many occasions.
Making of the wine
The grapes are picked by hand and brought to the press house in perfect condition in stackable crates, destemmed, and pressed with light pressure. The clarified must flows from the four-storey press house into the natural cellar without the use of pumps, and is slowly fermented in cooled stainless steel tanks at approx. 18 °C, first and foremost to convey the delicate aromas and flavours. The fine fruit is highlighted through aging in a steel tank.

Recommendation
Goes well with starters, poultry, salads and white meats – whether grilled, roasted, or breaded and fried. Also accompanies vegetable dishes and stews very well.