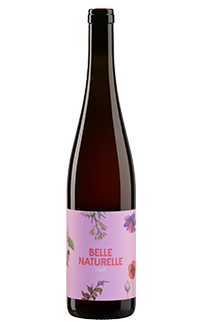 Varieties: Zweigelt, Pinot Noir, Cabernet Sauvignon
Soils: primary rock (Gföhler Gneis) with loess
Hand picked grapes from organic farming


Belle Naturelle
Rosé 2022

Like all our wines, the Belle Naturelle Rosé was created through the power of the collective. The significant difference this time, however, was that we had no part in its conception - as we had no idea it was even in the making. In short, Belle Naturelle Rosé is the creation of our team and was poured for us as a surprise at a Christmas party a few years ago. Since we liked the idea and the wine tasted fantastic, the Belle Naturelle Rosé has been an integral part of our portfolio ever since.


Making of Belle Naturelle
Hand-picked grapes of Zweigelt and Pinot Noir were pressed whole bunch as "blanc de noir". The bright juice fermented spontaneously with destemmed grapes of Cabernet Sauvignon in neutral Austrian oak barrels. The skin fermented Cabernet-Sauvignon grapes brought color and structure to the wine. After two weeks, the wine moved to used oak barrels where malolactic fermentation ended and then spent about six months on the lees in our 700-year-old cellar. Fermentation with a combination of berries gives a unique and complex natural wine with a high diversity of flavors.