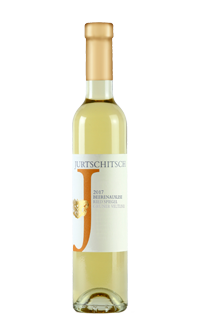 Grape variety: Grüner Veltliner
Site: Ried Spiegel
Hand picked grapes from organic farming

Beerenauslese Spiegel 2017
Grüner Veltliner
Substantial, invigorating, and concentrated, the forward acidity grabs you, revealing a luscious body of sweet deep fruit structures. The aromas are expansive and, apart from the fruit, are underlaid with spice and honey, with a long and lingering finish.

The making of the wine
Our noble rot grapes are meticulously hand harvested on several occasions, afterwards the grapes are gently pressed. Due to the water loss on the vine only a small amount of highly concentrated juice is released when pressed. The fermentation of the partly healthy, partly botrytised grapes starts spontaneously. The Beerenauslese was aged in wooden barrels and filled with 10 % alcohol and 197 g/l residual sugar.

Recommendation
Sweet or savoury tarts and quiches - for example, pumpkin or with leek and bacon. Sounds mad but tastes good! If you want to be on the safe side the Beerenauslese combines fantastically with sweet cakes.