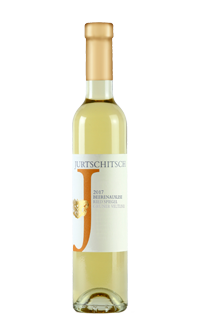 Grape variety: Grüner Veltliner
Origin: Ried Spiegel (BIO)
ABV: 7.5 % vol
Ac: 9.5 ‰
RS: 325 g/l
Ageing potential: 2050+

Trockenbeerenauslese Spiegel 2017
Grüner Veltliner

The highest order amongst sweet wines. An intense sweetness on the palate is accompanied by a bold, but straightforward and highly structured acidy. Our TBA is deep and powerful, forceful and dynamic. A veritable potpourri of complementary aromas are embedded in a concentrated and juicy mouth-feel - pure nectar of the gods!

The making of the wine
Our noble rot grapes are meticulously hand harvested on several occasions, afterwards the grapes are gently pressed. Due to the water loss on the vine only a small amount of highly concentrated juice is released when pressed. The fermentation of the partly healthy, partly botrytised grapes starts spontaneously. The Trockenbeerenauslese was aged in wooden barrels and filled with 7.5 % alcohol and 325 g/l residual sugar.

Recommendation
To be enjoyed with cheese, especially soft raw milk cheese, but also creamy desserts. Chocolate. Cigars. However, it can also be enjoyed all by oneself.