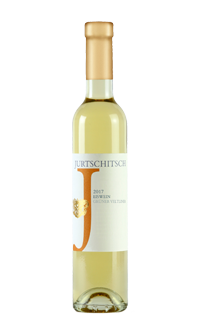 Grape variety: Grüner Veltliner
Origin: Terraces in Langenlois
ABV: 9.5 % vol
Ac: 9.0 ‰
RS: 207 g/l
Ageing potential: 2040+

Eiswein 2017
Grüner Veltliner
Glistening golden yellow. Juicy, concentrated and underlaid with deep fruit. Notes of honey and lebkuchen (type of gingerbread) compliment the ripe stone fruit aromas. The texture itself is creamy and cool, the body elegant and dense. The lively and animating acidity provides a balanced counterweight to the intense sweetness. Flows powerfully and dynamically towards the palate and beyond.

Ice wine
Ice wine has always been a rarity and is getting rarer. This is due to the barely calculable winter weather conditions in recent years. The difference between ice wine and other sweet wine varieties is that ice wines are not processed with rotten grapes but, with healthy grapes which have frozen on the vine. The main requirement for harvesting is that the temperature reaches at least -7 °C. After harvest, the grapes are pressed immediately. The sweet juice is then collected and the crystallized ice water in the berries remains in the press.

The making of the wine
The frozen berries which were harvested by hand were then immediately brought into the cellar and pressed. The juice content of the pressed grapes amounted to around 10% of the actual harvest. The viscous nectar started to spontaneously ferment and continued until March. The wine was then aged in a steel tank for six months and filled with 207 g / l residual sugar and 9 ‰ acid.

Recommendation
The intensely sweet and refreshingly cool aroma combines well with various desserts and raw milk cheeses, but also pairs pleasantly with spicy cuisine and fatty fish, such as grilled eel.