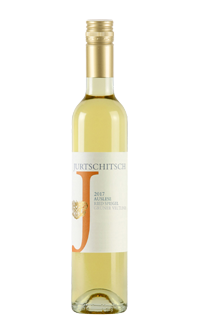 Grape variety: Riesling
Origin: Ried Heiligenstein (BIO)
ABV: 8.0 % vol
Ac: 7.0 ‰
RS: 128 g/l
Ageing potential: 2035+

Auslese Heiligenstein 2017
Riesling
Lively and elegant; yet sweet and exotic, our Riesling Auslese bridges the divide between sweet wine notes and combines them with the dry minerality and cool-fruity aromas of our classic Cru-Rieslings.

The making of the wine
Our noble rot grapes are meticulously hand harvested on several occasions, afterwards the grapes are gently pressed. Due to the water loss on the vine only a small amount of highly concentrated juice is released when pressed. The fermentation of the partly healthy, partly botrytised grapes starts spontaneously. The Riesling Auslese was aged in stainless steel barrels and filled with 8 % alcohol and 128 g/l residual sugar.

Recommendation
Can accompany sweet and sour. Goes well with all kinds of fruit dumplings, but also enhances breaded pan-fried classics of the traditional Austrian cuisine, like Wiener Schnitzel. If you like Japanese food, you must try the combination with Sushi.