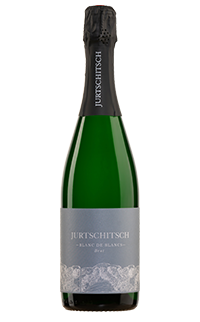 Rebsorten: Grüner Veltliner, Weißburgunder, Chardonnay
Fermentation in the bottle


Jurtschitsch
Blanc de Blancs N.V.
Sekt g.U. Brut
Sparkling wine production has a long tradition at the Jurtschitsch Winery. The oldest, historical bottles in the family vinotheque are sparkling wines made by Alwin's great-grandfather in 1936. In 2007 we revived this tradition. After a few trips to the Champagne region, Stefanie and Alwin set off in search of suitable vineyards in the Kamptal valley.
Our cooler, high altitude vineyards, characterized by the unique Kamptal style, provide the foundation for our Blanc de Blancs and bring freshness, acidity, structure and finesse to the grapes. Grüner Veltliner, Weißburgunder und Chardonnay are the trio of grape varieties in our Blanc de Blancs. Located at Loiserberg, these grape varieties bring elegance, coolness and precision into our sparkling wine.
A sparkling wine for many occasions. On the sunny terrace, as an aperitif, at a picnic in the vineyards or as a versatile culinary companion to starters, vegetable dishes and light fish and poultry recipes. Enjoy it!