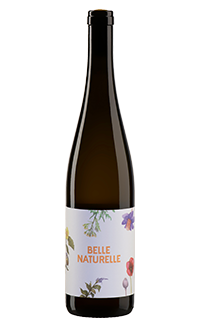 Variety: Grüner Veltliner
Soils: mica schist and gneis
Hand picked grapes from organic farming

Belle Naturelle
Grüner Veltliner 2022

A wine in Adam and Eve costume. Unadorned, unfined & unfiltered. Gently turn over before opening.
Under the title "Entdeckungen vom Weingut / Discoveries from the Winery", special project wines have been vinified and bottled in small quantities at the Jurtschitsch Winery every year since 2007.

Making of Belle Naturelle
Belle Naturelle is the slightly more adventurous alternative to our classic Grüner Veltliner Stein. Like this one, it comes from Grüner Veltliner grapes from high altitude vineyards around Langenlois. Once harvested by hand, the grapes were destemmed and fermented spontaneously on their skins for about two weeks in neutral Austrian oak fermentation vats. No temperature control was used and malolactic fermentation was also spontaneous. The wine matured on the lees in neutral oak (500 to 1000 liter barrels) in our 700 year old wine cellar. Fermentation with a combination of berries gives a unique and complex natural wine with a high diversity of flavor.